---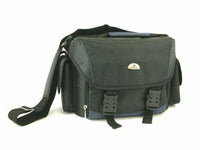 BRAND NEW - Deluxe Universal PROFESSIONAL Digital Camera Bag!
BLUE accent color.
Perfect for digital cameras, camcorders, binoculars and any other type of electronical equipment that requires a thickly padded carry case for protection.

Measures:
9" L x 12" W x 9" D

Features:
- Front zippered pocket with Organizer and a zippered mesh pocket inside.
- Main cavity has thick and durable padding and universal inserts for setting up the interior exactly how you want it laid out. The main cavity area also has some zippered pockets so you can remove or change the type of padding in the bag! There is also a mesh zippered pocket in the top of the lid.
- Sides: Both sides feature hook and loop sealed pockets.
- Back: The back has a zippered sleeve pocket and an adjustable waist strap to keep the bag from swinging around when you move.

Perfect camera bag for backpacking, bikers, hikers and more!

Beautiful and Rugged design. Deluxe Nylon construction.

Don't spend a fortune on a high dollar camera bag! This case has the same quality materials and features at a fraction of the cost! This bag just screams PROFESSIONAL!