---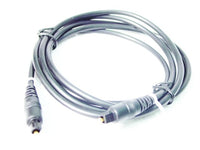 BRAND NEW - 6' FT Optical Toslink Cable!

This is a new 6FT fiber optic audio optical cable for use Dolby Digital Receiver, Digital Signal Processor, DAT Machines, Divx Player, DVD player, CD player, DSS receiver, DAT player/recorder, MINI Disc player/recorder, Sony Playstation 2, XBox, ALESIS, or any components that use normal full-size TOSLink connectors.

FEATURES:
* HEAVY 5.0mm JACKET Helps Prevent Cable Damage and Provides Additional Strain Relief.
* MOULDED STRAIN RELIEFS Reduce Stress where Cable and Connectors Meet.
* GOLD-PLATED FERRULE Prevents Corrosion and Provides for Maximum Protection of the Fiber Tip.
* PRECISION POLISHED FIBER TIPS for Maximum Signal Transfer (includes tip protectors)
* TOSLINK Connectors at Both Ends.
BRAND NEW Optical Fiber cables for the highest quality transfer of digital audio signals Includes end caps that remain attached to the cable!

Amazing price!