---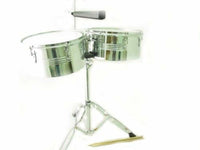 BRAND NEW - Timbale Drum Set!

You get everything you see in the photo!
* 13" Timbale Drum
* 14" Timbale Drum
* Metal Cowbell
* STANDS for ALL OF IT! * Even Drum sticks!

Ready to rock, right out of the box!
Lusterous CHROME finish surrounds the drums.

These sound really good for the price! Add it to your set, or play it independantly.