---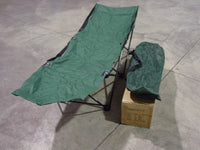 BRAND NEW - GREEN - Quick Setup Folding CAMP COT with carry bag!

Simply pull it out of the carry bag and give a quick tug and the cot is ready to go!
Great for catnaps and keeping your body off the ground! Greatly improves how dry you stay when camping. Perfect cot / bed to put your sleeping bag on while camping out.
Durable Construction to handle a variety of environments and seasons.
Powder coated tubular steel frame.
Dimensions: 76" X 29" X 16"
Weight Capacity: 150 - 180 LB (pounds)

BRAND NEW!