---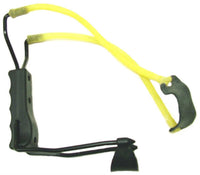 BRAND NEW - High Velocity Wrist Strap SLINGSHOT!

features:
folding wrist lock wrist support
Leather ball hold
Manufactured from the latest space age materialsHigh Tension Surgical Latex Rubber power bands!

Firm positive grip for steady aim and superior accuracy
Perfect for vermin control or traget practice fun! This slingshot shoots projectiles like a pro!

BRAND NEW!