---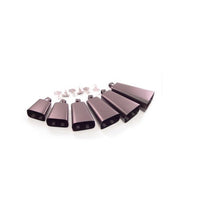 BRAND NEW - 6 - SIX - PIECE SET of METAL COWBELLS SET!

you get all these sizes:
4" inch
5" inch
6" inch
7" inch
8" inch
9" inch

They sound amazing! The cowbells can be very subtle or can be pounding loud depending on your style or song! INDESTRUCTABLE!
They are one awesome set to include in your own drumset or to play as auxilary. Beautiful Powerful Tone!
* The stand in the video is available in our other listings but is not included with this set, sorry.