---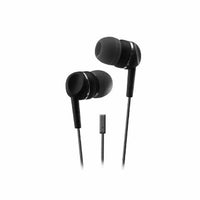 Sentry Talktunes Stereo Earbuds

Features:
- In-line Microphone
- Color Matched Cord
- Rubber Coated
- Noise Reduction
- Stereo Sound
- Connector Type: 3.5mm

Description
Use these Sentry Talktunes Earbuds to keep yourself always plugged in through the day. With a simple black design, these earbuds have a subtle presence that won't stand out and demand attention. The comfortable fit is useful when traveling and moving around consistently. These Sentry Talktunes Earbuds has a simple audio driver, which does enough to produce clear and accurate sound. You'll love the useful and reliable experience created by these headphones.