---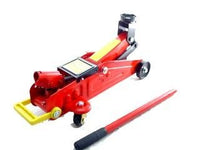 BRAND NEW - 2 TON CAPACITY HYDRAULIC FLOOR JACK!

This hydraulic jack is a mechanical device used to lift heavy loads or apply great forces. This jack employs a hydraulic cylinder to apply very high linear forces with very little physcical effort.
This standard hydraulic jack uses an oil, which is incompressible, that is forced into a cylinder by a pump plunger. One person can lift the back or side of a vehicle with the use of this jack.

Features and extras included with this jack include:
2 TON CAPACITY
Excellent Stability
Easy Manueverability
Portable / Easy to manage
Lifting Range 5" To 12"
Rolling / Swivel Wheels
BRAND NEW!