---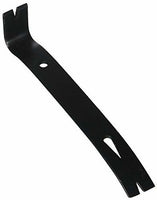 BRAND NEW - 7.5" Inch Mini Flat Pry Bar

* Drop Forged , Heat treated Steel Construction.

* Bar and Claw angle allows for close use near walls and edges.

* Wide, Flat claw base resists sink and sideway roll.

* Black Finish adds strength and resists rust.

Very handy tool for pulling nails and scraping.