---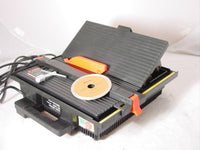 BRAND NEW - Portable Wet Tile Cutting Saw!

Contractor style portable saw features deep well for cleaner running water.

Guide Bar
Diamond cutting Blade - 4.5"
Blade Wrench
Protective Blade cover

110mm - 2600 MIN RPM - 370 Watt

This Tile cutter is made to be easy to use, It is 100% portable and opens up to hold extra blades or anything you need to store inside of it.
Dont let the small size fool you, It has all the power you need to cut through a very wide variety of tile, marble, granite and more!

Perfect for your home shop or garage. Save yourself a bunch and purchase at our very low wholesale ebay price!