---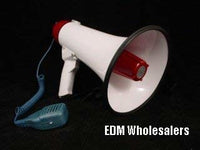 BRAND NEW - 30 Watt MEGAPHONE!

No nonsense Powerful Public Address System! Great for organizing a crowd.
Blast the Siren and Get your voice heard! Great for bands that want that unique sound!!
Perfect for outdoor sporting events, school events, speaking engagements, parties,crowd control, fire fighting, rescue operations, auctioneers, film shoots and football games!
Very Durable Weather-Proof ABS Construction means a long life ahead for this powerful 30 watt Megaphone.
There is a Alarm option! Blast a LOUD alarm to get your audience attention, then speak clearly at any level, with fully adjustable volume control.
Stand above the crowd with this very popular Megaphone Powered Horn!
Carry Strap - hang the horn around your shoulder. Handheld Microphone - with volume control and on/off talk switch.
Emergency Alarm- get their attention in a second with the powerful blast horn.
Plays Music tune
Power: 30 Watts
Voltage: 6 - "D" Size batteries ( not included )
Effective Range: 1.25 miles in flat area.
Horn Diameter: 8 inches

BRAND NEW!