---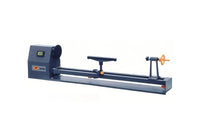 BRAND NEW - Electric BENCH WOOD LATHE - Over 4' feet Long!

This lathe is a machine tool which spins a block of material (wood) to perform various operations such as cutting, sanding, knurling, drilling, or deformation with tools that are applied to the workpiece to create an object which has symmetry about an axis of rotation.
Woodworking lathes are the oldest variety. An adjustable horizontal metal rail - the tool rest - between the material and the operator accommodates the positioning of shaping tools, which are usually hand-held. With wood, it is common practice to press and slide sandpaper against the still-spinning object after shaping to smooth the surface made with the metal shaping tools.

Here are the specs for this Heavy Duty WOOD LATHE:
Motor Power: Single Phase 350 Watts
Height Of Cutting Tool: 7" (178 mm)
Maximum Diameter: 14-1/4" (365 mm)
Maximum Length Of Cutting Feed: 39-1/4" (1000 mm)
This model has 4 Speeds that can be set internally:
1100 RPM for Roughing Off.
1600 RPM for General Cutting.
2300 RPM for Fine Cutting.
3400 RPM for Finishing.

- Voltage: 120 Volt
- Frequency: 60 Hz

NOTE: CURRENT SUPPLY HAS GREY COLOR BODY.