---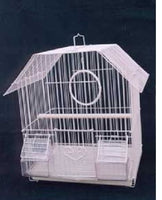 BRAND NEW - Starter Kit -BIRD CAGE!
Your birdies will love this awesome new cage!

Features:

* Covered Feeding Tray - outside mount
* Walking Bar
* Swinging Perch
* Bottom Platform
* Plastic bottom Tray - slides out.
* Access Door
* Perfect all those who want to start with a small cage for children or if you just want to wake up to birds beautiful chirping! Nice Starter Set!!

Size: 10.5 x 8 x 12" inches