---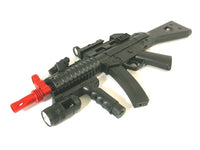 BRAND NEW - Full Scale MODEL M-5 Airsoft Assault Rifle with extra plastics.

holds 20 rounds of 6mm plastics in magazine.
* Permanent Safety Orange barrel tip
Fires up to 250fps (feet per second)
Excellent for gun collectors, airsoft fans, paintball players, and training aid

Dont miss this great deal!