---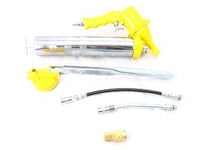 BRAND NEW - Air Grease Gun with 6 piece KIT!
A super item to go along with your air compressor!
Features:
Air and Hand Operated
Loads 3 Ways
Bulk Fill Type
Pressure Filler

A portable lube grease gun. Ideal for machine, automobile, farm and garden equipment, recreation vehicles, motors, etc.