---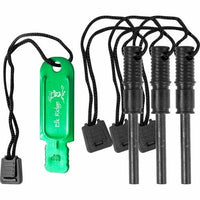 BRAND NEW - ELK RIDGE brand - Magnesium Fire Starter - 3 pack!

"The Best accessory to ensure you can start a fire when you need one."

Includes:
3 - 3" inch Magnesium Flint Rods with lanyards and handles.
1 - Metal Striker with lanyard.

Features:
Durable and Lightweight.
100% waterproof and wind proof
Produces a 3000 degree C (5500 degree F) Spark!
Bright spark can be used as an emergency signal.

"Elk Ridge products are designed an manufactured to accommodate the rugged outdoor lifestyle. Whether you enjoy fishing, hunting or camping, Elk Ridge quality products deliver peak performance to further enhance your outdoor experience. Make your outdoor adventure a reality with Elk Ridge."
BRAND NEW! 3 PACK of FLINT AND STEEL MAGNESIUM STRIKER RODS!