---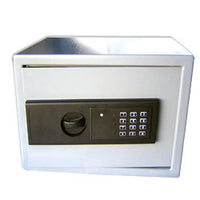 BRAND NEW - Digital Electronic GUN / BOX SAFE!

This Box Safe (also called strongbox, coffer or kist) is a secure lockable box used for securing valuable objects against theft or damage. It is a traditional square design with a multi-bar secured hinged door with concealed Tamper Proof hinges.

This safe features an Electronically controlled Combination keypad and can also be opened with the included KEY!
Ideal for jewelry, cash, handguns and other valuables.

Length: 13.6" Depth: 7.5" Height: 9.6"

BRAND NEW!