---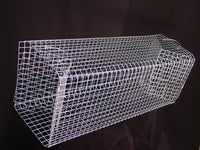 BRAND NEW - Large Collapsible FISH TRAP!

Simply drop this trap into the water, use your favorite bait and sit back and wait for the fish to swim into the one way doors that are on both sides of the trap. Nice for capturing bait fish.

Measures: 3' feet LENGTH x 13.5" inches TALL x 12" inches WIDE. One way doors on each end. The mesh size is 1" inch square.

This fish trap is collapsible for easy storage.
Includes plastic tie downs for locking the ends.

GREAT DEAL! BRAND NEW!