---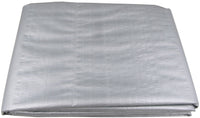 BRAND NEW - 9' x 12' SILVER Tarp.
Ideal for Ground Covers, Luggage covers, Truck Covers, Boat covers, raking and moving leaves and yard debris and MORE!
Heavy Duty, Fiber reinforced Polyethylene Tarp Features:
9' x 12'
Water Resistant
Washable, Shrink proof, and Rot Proof.
Rope reinforced edges, Tear proof rip stop material.
Heavy Duty Rust resistant Grommets / eyelets
ALL Temperature, ALL season use!

Tarp material has been treated with U.V. absorber for maximum protection against deterioration caused by ultra violet rays and can be used for years under typical use.
Perfect for Ground covers, Luggage Covers, Truck Covers, Boat Covers, Raking LEAVES! And Hundreds Of Other Uses.