---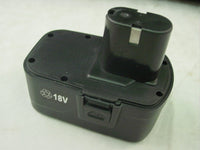 BRAND NEW
A welcome addition to any Do-It-Yourselfers home shop.

Keep one charging while you use the other!
Professional quality at a Wholesale Price!

Just in case you have a need for marathon drilling runs you may need an extra / spare / replacement battery!
Also, Great resell opportunity at flea markets, online auctions, and any other outlet that you have!!
Its really nice to have a spare lying around. It never fails you lose power right when you need it. End that problem today with this spare 18 volt battery.

- Rechargeable
"Post" is 1.85" Tall
"End of Post Length", from edge to edge is 1.9"
"End of Post Width", from terminal edge to term. edge .9"

Good Luck Bidders!