---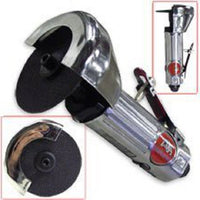 BRAND NEW - 3" AIR Cut-Off Cutter Tool!

An ideal item for cutting off tailpipes and other auto body work.
A must have for fabricating and detailed cutting. Professional quality at a Wholesale Price!
Durable and lightweight aluminum housing.
Rear exhaust and safety trigger prevents accidents.
Chrome-Plated steel guard protects you from sparks during operation!
Cut off exhaust systems and other steel work quickly and efficiently.

Cutting Wheel - 3" x 1/16" with 3/8" center hole.
Allen Hex Wrench - must have for removing the blade with ease.
Air Adaptor- comes with the adaptor to quick connect your hose.
Custom Wrench - its like an extra set of hands to help hold the chuck for tight and safe operation.
Chuck: 3" wheel - 3/8" shaft
Free Speed: 18,000 rpm
Air Inlet: 1/4" npt or bsp
Air Hose: 3/8" ID
Avg. Air Consumption: 4 cfm
Operating Pressure: 90 psi

BRAND NEW!