---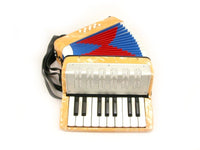 BRAND NEW - 17 KEY Starter Accordion!

COLOR: ORANGE / Creamsicle

Key of C - Features 8 Bass Pads and 17 small piano keys, and a Breather button.

Perloid Blue Finish.
Long draw bellows for fully extended notes.
Responds great with very little effort. This accordion can be played light and quiet or you can really blast it out depending on your playing style and approach. Very cool and traditional sounds!

Tons of fun to play for children or adults.

Also features leather straps so you can wear it traditionally.

Great deal!