---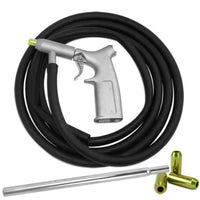 BRAND NEW - Air Sand Blaster Kit!

Designed for fast, efficient sand blasting.
Liquid or Air cleaning of parts and surfaces.
Complete with 10' feet of hose, pickup tube and extra parts.

Blasts off RUST, Scale Carbon, Chemicals and Paint with ease!

includes:
3 - 1/4" Extra nozzles
1 - 13/64" Air jet
1 - Hex Key Wrench
1 - Sand Pickup Tube

This quality product with proper care will give you excellent performance for a long time.
To replace the nozzle, unscrew the hex shaped nosepiece which holds the nozzle in place. Pull the nozzle out.
Insert the new nozzle carefully.
Screw the hex shaped nosepiece back on.

This sandblaster comes with STANDARD 1/8" and 5/16" orifices.

Very nice Air powered tool!