---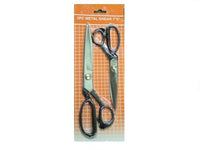 BRAND NEW - 2 Piece SHEAR / SCISSOR SET!
7" inch and 9" inch.
Although often used interchangeably with "scissors", the term shears is reserved by those in the industry for scissors longer than 15 cm (6 inches). Others assert that scissors are symmetric whereas shears distinguish between the thumb hole and the finger hole.Like scissors, shears combine slightly offset jaws to cut material through physical shear, and combine this with levers to apply a considerable small force. Shears are usually intended for cutting much heavier material than scissors. Stock Up Today! Great for classrooms!